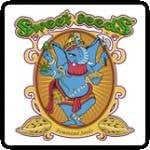 Sweet Seeds are a seed bank from Spain who specialise in feminised cannabis seeds. After conquering Spain with their now world renowned seeds they moved to conquer the whole of Europe.
They listen to both the cultivator and the public together, enabling them to combine seeds to offer unique packages at affordable prices.
Being one of the first seed banks to offer autoflowering varieties, Sweet Seeds used their knowledge and experience in growing to put a spin on what most seed banks offer.
They have something for everyone and all of their seeds are engineered for indoor and outdoor growing. They have a vast library of different strains and genetic variations which they use for testing and quality control when coming up with new and exciting strains for their customers.
Each of their seeds goes through a rigorous testing period, being hand selected, thoroughly tested, and inspected before they are deemed suitable for production. They ensure that they are provided with the perfect climate, lighting, and temperature to produce the best results possible and keep the seeds fresh and potent.
The only seeds that are allowed to slip through the net are those with a 95% or higher germination rate. Their feminised seeds have a phenomenal 99.7% pure female growth rate so money is not wasted on seeds that may become hermaphrodites. This may be because their main point of focus is on the user-friendly seed types known as feminised seeds and feminised auto flowering seeds. Their testing on auto flowering feminised seeds started in 2007 and they quickly produced a plant with a 100% auto flowering strain that had one of the fasted flowering periods around.
Some of their fastest plants have a flowering time of just 7 ½ weeks, far faster than most other brands who usually boast a roughly 10 week maturing time. These strains were on the market by 2009 after many years of perfecting their product and making sure that it was at least one of the best strains on the market. They are still to this day working on breeding programmes that allow them to cross their finest pre-existing strains with the auto flowering gene.
This brand has an impressive array of different strains and seed types, supplying something for even the most discerning of customers.
Please remember that the growing of cannabis plants and the cultivation of seeds is illegal in some countries - please check the laws of your country and don't be growing any plants if it is against your country's laws.