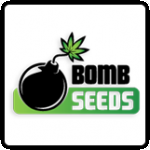 When it comes to finding seed genetics which possess a winning combination of explosive potency, supreme quality and super-high yield potential, Bomb Seeds is one breeder that will give you plenty of 'bang-for-your-buck'!
All of Bomb Seeds' strains have been grown in the Netherlands, under the observant eyes of experienced breeders, who hand-pick only the most perfectly matured, viable seeds from their library of stable, specially-bred strains. All seeds are stored in a humidity and temperature-controlled environment, to keep them super-fresh until they need to go out to the ever-growing league of avid Bomb Seeds collectors all over the world.
Some of Bomb Seeds' most popular strains include:
Atomic
As this strain's name would imply, Atomic is blessed with an abundance of power which will totally blow your mind, inducing euphoria and bringing a delicious citrus, berry and menthol flavour profile to the party. With THC levels topping 26%, a high yield potential of up to 500g/m2 and a grow time of 8-9 weeks, this is truly a weed seed of mass production!
Cherry Bomb
This beautiful, heavy-yielding Indica/Sativa strain leans towards its Indica heritage, first delivering a cerebral, energising head buzz, before bringing on a delightfully soothing full-body stone. Despite the deep relaxation this strain brings on, it stimulates the creative workings of the mind, allowing one to stay calm, yet focussed. Flavour-wise, Cherry Bomb has a deliciously distinctive sweet cherry taste, combined with a spicy, skunky undertone.
CBD Bomb
Whilst THC Bomb might be Bomb Seeds' most famous offering, CBD Bomb is making waves in the medical marijuana community. Thanks to its incredibly balanced cannabinoids: 6% THC to 7.5% CBD, CBD Bomb is a potent painkiller and relaxant, which packs none of the heavy drowsiness associated with some of the higher THC strains; This balanced combo makes CBD Bomb a valuable strain for those suffering from chronic pain, muscle and joint issues, inflammatory conditions and stress, among others.