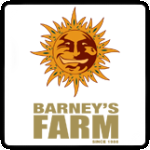 Barney's farm is a brand that has been around since the 1980s collecting fine genetic specimens from all around the world. Bringing all of this together in their labs, they can create the finest and rarest strains which are then available to the public at very reasonable prices.
If you are a little cynical, like most of the world, you will read things like this and think, "that's what everyone says about every brand." This may be true but have all of the other brands won international prizes for the standards of their produce? Barney's farm has won a good few. However they attempt to stay humble and concentrate on what they believe to be important, the quality of the seeds that they produce.
The founder of this company always possessed a passion for the maintenance of quality seeds and so based himself in the Himalayas, with a few other choice like minded breeders, in order to create the finest breeds that he could muster. He used cross-breeding and a whole lot of love to create some of the finest strains around.
This great man then moved to Amsterdam, sensible right, in 1992 and opened Barney's coffee shop. The pure quality of what he brought with him ensured Barney's farm quickly developed into the research facility where the best quality seeds were bred. Soon after the public became aware of the sheer superiority of his strains and jumped right on that delicious band wagon. Since then the brand has been growing and growing and, as I mentioned earlier, winning a whole bunch of awards.
Today their work continues and they still strive to find the rarest strains to breed and cultivate into their excellent merchandise, their main reason for existing is still the satisfaction of their customers and a sheer passion for the maintenance of the best quality strains on the market.
Please remember that the growing of cannabis plants and the cultivation of seeds is illegal in some countries - please check the laws of your country and don't be growing any plants if it is against your country's laws.