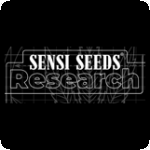 Sensi Seeds Research is a new line of cannabis seeds that has just been introduced. Old established favourite strains of Sensi Seeds have been crossed with more recent strains from the U.S.A., which have found favour both at home and abroad.
There are 11 brand-new strains in all of them.
Legendary cultivars such as Silver Haze and Black Domina have been crossed with Chocolope and Fire OG as well as high-CBD strains including Harlequin and Swiss Dream.
Out of the eleven new varieties, growers and consumers will be able to vote for the three which they would like to see added to the main catalogue of Sensi Seeds, as well as suggesting distinctive names for them-now they are labelled with the names of the two varieties from which they were bred.
These new seed strains are available as single seeds, as are the usual 3, 5 and 10 seed packs. What are you waiting for today, get yours from The Vault!