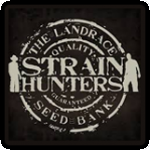 Strain Hunters is a truly phenomenal seed company that cares more about their product than most seed banks in business today. They supply for their customers an amazing selection of documentaries as well as a veritable library of information regarding the wonderful nature of the cannabis plant. It is truly refreshing to see a company with such a passion for this special plant.
The Strain Hunters are names Arjan, Franco and Simon and they travel the world spreading the message of cannabis. They are showing people everywhere the true value of the plant itself as well as the many ways in which is can have a positive impact on society and the people within it. This is a group that really knows their stuff and they discuss not only the day dreamy reasons as to why cannabis would be legal but they really consider the reality of the idea. They look into the effects it would have socially, economically, politically and the effects that it has had throughout history. Their other mission is to travel the globe hunting for, and preserving, the rarest and most amazing landraces. Their hope is to revive these dying species and share them with consumers and breeders all over the world.
Not only do they care a great deal about the plant itself but also about their customers. They want to lighten the stigma around cannabis and so supply the finest and highest quality strains around without charging a fortune. They are really a seed bank of the people who clearly want everyone to understand how amazing cannabis can be. They also ensure that they have a good deal of variety in their strains. They stock everything from old favourites to new hybrids, rare to common, pure Indica to pure Sativa, everything a breeder or grower could possibly want. Their seeds also come in a variety of forms such as feminised, regular, and autoflowering. This is because they understand that the cannabis demographic is a very wide one and that everyone has their own way of doing things. This is one of the most important factors in a seed bank.
Soon the world may be a better and more enjoyable place thanks to these brave Strain Hunters.