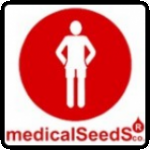 Medical Seeds is a Spanish seed bank which focuses mainly on medical marijuana: Surprising right? They have been in business and focusing on developing their medical strains for some years now. They also supply some of the necessary equipment for marijuana growing; of course these are only for those who live in areas where it is legal to grow marijuana.
The brand guarantees between 50%-100% germination for all of their seeds and suggests that one can expect 50% of them to be female. They also point out that the yield will usually be high, but this depends completely on the climate in which the customer grows the seeds (especially when it comes to lighting). All of this brand's new strains are rigorously tested for quality before going on sale.
They have a wide range of medical seeds including such favourites as: 2046, Jack La Mota, and Prozack as well as quite a few others. Medical marijuana strains generally have a high level of CBD, instead of being overly THC-focussed. CBD not only acts as a pain killer and anti-inflammatory but can also set off quite a few helpful reactions in the body. They attach to receptors which can help to strengthen the bones in osteoporosis patients as well as slow down the passage of Cancer and AIDS cells.
By following strict quality-control procedures and keeping their production limited, this small Barcelona-based seed bank is making pioneering breakthroughs when it comes to developing exciting medical strains, including some on the horizon which will have a 1:1 THC/CBD ratio.
Please remember that the growing of cannabis plants and the cultivation of seeds is illegal in some countries - please check the laws of your country and don't be growing any plants if it is against your country's laws.