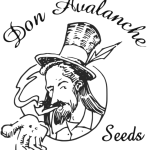 A Melting Pot of Passion and Expertise: Unveiling the Essence of Don Avalanche Seeds
Nestled in the heart of Andalusia, the Don Avalanche Seeds team stands as a harmonious blend of English, Spanish, and German enthusiasts, united by a shared ardor for the botanical realm. Our collective journey spans back to the year 1978, an era where the seeds of our research were sown by our visionary founding members. While our roots are steeped in tradition, we also eagerly embrace the fresh perspectives of our younger collaborators and diverse communities spanning the globe, an amalgamation that fuels our ability to cater to the ever-evolving demands of this rapidly changing world.
Having devoted decades to the pursuit of excellence amidst the nurturing embrace of the "breeders paradise" bestowed by the radiant sun of southern Spain, we harnessed the benevolence of this idyllic climate to meticulously hone genetics and craft some of the most extraordinary strains to grace this planet. Our proudest achievement stands before you in our latest selection, a testament to our ceaseless dedication and tireless exploration.
Yet, this is not the culmination, but merely a chapter in our ceaseless odyssey of discovery. Our laboratories and fields remain abuzz with fervent experimentation, as we continue to unravel the secrets woven within each strand of DNA. The symphony of innovation and tradition harmoniously dances within our DNA, propelling us ever forward towards uncharted territories of excellence.
Rest assured, as the sun continues to cast its golden embrace upon our endeavors, our research remains an ever-burning flame, promising a future brimming with unparalleled discoveries and creations that shall etch our legacy into the annals of botanical greatness.