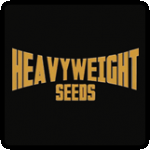 Heavyweight Seeds began in mid-2008, when their team visited a local grower who had received incredible results from his latest crop. They bought clones of his mother's plants and bought them back to Spain.
The resulting strains created by the cross between the mother plants mentioned above were really mid-blowing. In order to preserve these special phenotypes more efficiently, Heavyweight Seeds decided to create their own gene pool.
It took about a year to prepare their products for the market and create a brand that has become Heavyweight Seeds.
Heavyweight Seeds have focused a great deal on creating strains with incredible resin production. Their genetics yields a recurrence of between 10 % and 20% of the resin produced under normal conditions with generic nutrients.
Heavyweight Seeds use extreme germination methods during breeding. They place the seeds in places where the humidity and temperature variables are adaptable, forcing them to germinate under poor conditions. They work with the plants that have passed the first stage.
This selection process ensures that individuals with heavy weight work produce seeds that can germinate anywhere.
The philosophy of Heavyweight Seeds is simple; it only breeds strains with high production (flowers and resins) and strong effects. If a grower wants a product of the highest quality and abundant crops, they need not look any further than the Heavyweight Seeds range.
The Seed Library that Heavyweight Seeds has produced is expanding all the time, but some of their classic, original strains remain their customers' favorites.Their 2Fast 2Vast is one of the most popular auto flowering strains on the European market right now and is set to make waves soon in the USA.
As far as photoperiod strains are concerned, the delicious trio of Dream Machine, Fruit Punch and Strawberry Cake are the most popular and many customers return to Heavyweight Seeds to pick up these strains in particular.