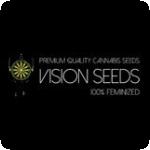 15 years ago, Vision Seeds was created, the brainchild of one man's desire for cannabis cultivation, culture and lifestyle. This man is Danny B, founder of Vision Seeds and the driving force behind the growth of this popular seedbank.
Vision Seeds is deeply rooted in all aspects of Dutch cannabis cultivation from both the professional as well as the recreational growers end. Therefore, the breeders were able to keep a close eye on the development of strain genetics, the emergence of feminized seeds and the ever growing popularity of auto-flowering strains from the start.
During their early years, Vision Seeds were predominantly selling genetics from established breeders alongside grow equipment and a variety of cultivation products. However, this all changed during the turn of the century when legendary cultivator Herbal Harald joined the team. Under his expert guidance, Vision started to experiment with different strains in an attempt to create a line of genetics that would stand out in an ever-expanding market.
Using genetics from the best strains around the world, Vision Seeds isolated the most desirable traits in terms of yields, taste, smell, effect, looks, resistance to disease and overall ease of grow. These strains were then crossbred and stabilised which resulted in some of the amazing strains Vision Seeds is now able to offer.
After years of trialling, testing and inevitable error, Vision Seeds were finally satisfied with their unique strains and in 2010, introduce their feminised seeds to the world at Cannafest.
Ever since this moment, Vision Seeds has been growing at an incredible rate and has gained massive popularity, especially within Europe. Their seeds have all of the best traits of some of the classic strains, whilst also maintaining an originality, thanks to a decade of hard work from the seedbanks' breeders.
Vision Seeds now offers over twenty unique strains, five of which are auto-flowering.