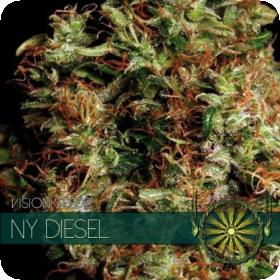 NY Diesel Feminised Seeds
This strain is a classic; it comes from New York City genetics and is sativa dominant. This strain is a cross of Sour Diesel, Afghan and Hawaiian indica. The scent is sweet but fruity which goes well with the uplifting effect.
Despite the initial soar of the high it does mellow into a lovely full body stone. This strain produces amazing yields and the buds are dense and resin coated.
The effect is also excellent for medicinal purposes and is great for treating nausea and pain.
NY Diesel is a feminised strain, meaning that it will only grow into female plants. Feminised seeds are ideal for growers who don't want to breed their own crops. For these growers the male plants are a huge waste of time and money.
This is because they can harm the female plants during the flowering process and have to be removed. Feminised plants also tend to be higher in quality and uniformity than regular plants.
For this reason some breeders also prefer to use them, even though feminised seeds are very hard to breed with.
This strain has a flowering time of 10 weeks and can be grown indoors or outdoors.
Remember that the cultivation of cannabis seeds is illegal in some countries; please check the laws of your country before attempting to cultivate cannabis seeds.