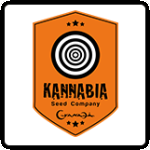 Kannabia Seeds is a Spanish brand that was for many years at the forefront of Spanish seed banks and is still considered one of the best available brands in Spain. They are extremely dedicated to their customers and provide an extensive catalogue of new and interesting seeds and strains that would fit even the pickiest pallet.
Their vast catalogue can be found on their very helpful website and will take you through all of the strains that they now have available.
On their website they have a large collection of all of their different seeds for customer perusal as well as an excellent step by step growing guide for those growers amongst you who are not quite as sure footed as others. They also have a large section clearly outlining every aspect of legality, payment, delivery etc. so there is no way that as a consumer you could be bamboozled by small print or hidden add ons as long as you read it carefully. If that wasn't enough, with a purchase of no less than 29 Euros the postage and packaging is completely free.
This brand has been growing for many years now and consists of extremely experienced breeders who have been growing and producing top quality products for a long time and don't plan on changing any time soon. In fact, if anything, they have greatly improved on account of their new and more stable breeding environment their seeds have only been getting better.
Kannabia Seeds have even won a couple of awards, for example at the Toronto 'Treating Yourself Expo' their strains won first and second place in the medical marijuana cup. With their many years of experience and the great amount of care that they have been shown to put into their strains this is hardly surprising and explains why it is that they are one of the leading Spanish brands.
Please remember that the growing of cannabis plants and the cultivation of seeds is illegal in some countries - please check the laws of your country and don't be growing any plants if it is against your country's laws.