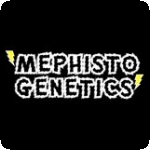 Based in Spain, Mephisto Genetics is a cannabis breeder that specialises in autoflowering varieties. They use some of the most elite genetics to ensure quality and deal only in unique, F1-hybrids. Their genetics come from a variety of sources from around the world and are handled with the utmost care and respect in order to yield varieties that are unmatched anywhere else. That commitment shines through the end product and we are sure you will agree.
For more than a decade, Mephisto Genetics has been experimenting with various breeding and cultivating methods to discover how to produce plants with the strongest, most desirable traits possible. They have amassed a comprehensive knowledge of the strains they utilise and that expert knowledge is evident in every strain they produce.
Each Mephisto Genetics variety is a product of cross breeding not simply from auto to auto strain, but rather that of many generations' worth of breeding from regular strains. They truly create brand new F1 automatic strains without taking any shortcuts that could compromise quality or reliability.
Why Choose Mephisto Genetics?
With so many choices for autoflowering seeds, it can be difficult to know which ones will produce the most desirable yields and provide the best quality. Mephisto knows that you have a broad range of options and, for this reason, they strive to earn your respect and loyalty. They do that through an exhaustive process of persistence and experimentation with the end result being a product base you will be happy to grow, use and return to again and again.
Mephisto has grown into a commercial enterprise whose breeders remain committed to the same principles they did as smaller hobbyist growers. They invite you to enjoy the fruits of their past, present and ongoing labours and hope you will come to appreciate all that goes into making these truly one-of-a-kind hybrids great.