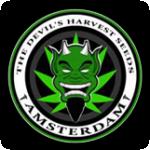 This incredible breeder is known for producing some of the most unique, devilishly potent strains on the market today.
The strength of flavour and impactful effects of each strain produced by Devil's Harvest Seeds is combined with legendary reliability and super-speedy flowering cycles that come together in a package that is hard to beat.
With many awards to their name, including prizes from the prestigious High Times Amsterdam, Spannabis and High Life events, maybe it is time that you did a deal with this Devil? You'll be in good company too: This breeder produces strains which have received endorsements from many celebrities, including Damian Marley, Snoop Dogg, Method Man, Redman, Ghostface Killah, ZZ Top and Sting!
Grab some fiendishly awesome seeds from Devil's Harvest Seeds right here at The Vault!