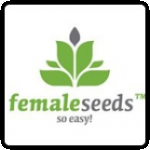 Female Seeds leapt into the market in 2003 in an attempt to completely stabilise the feminised seed. Feminised seeds had indeed already been available for some years but were often found to be unreliable. The head breeder of Female Seeds, Ferry, had previously been a breeder since the early 90s working with regular seeds and he quickly became one of the top legal suppliers for Dutch seed banks. This shows that his breeding prowess, even as a student, was something to be marvelled at.
Now they work almost exclusively on the feminised seeds. His 15 years of breeding experience has allowed him to create feminised seeds that will grow consistently into quality plants. This is obtained through the arduous process of breeding, cross-breeding, carefully selecting, and testing many different strains in order to create the perfect feminised seeds.
Each batch of seeds is rigorously tested on their germination and stability reliability and seeds which do not match this standard are permanently removed from the picture so that they cannot sully the integrity of the other plants. They then perform a field test in order to completely ensure perfect results before even considering marketing the seeds to the public. Clearly a brand that is extremely passionate about what they are creating and selling to their customers.
This unique quality helped them to stay ahead even when many other feminised seed brands came into the mix, they had already established quite a following with their top quality produce. Their seeds are not yet completely clone like but they do state the stability rate on each of their strains. The higher the stability rating the closer to the clones they are. They have an excellent track record thus far producing an incredible 99.9% only female plants.
A tried and tested company that is completely committed to perfecting the stability of their females, making the growing experience far easier for the customer.