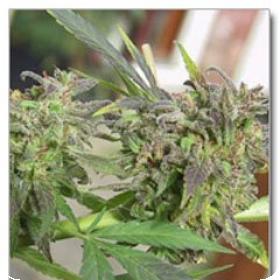 Easy Sativa Feminised Seeds
What's in a name? Sometimes the answer is, "everything," and this strain is a prime example. It delivers well on its name: feminised all-sativa cannabis that is easy to grow and is the perfect choice for first-timers and novices looking for a strain that will provide a good yield without a lot of work or know-how.
The plants take on the look of a truly regal landrace sativa. While there are several phenotypes that could present, they all have some very impressive traits and all are big producers.
Every pheno has long, rich green leaves and a distinct Christmas tree shape. The colas are very heavy and thickly coated with sticky, potent resin. The most noticeable difference between them is in the flavour.
Again, all of them are a delight to the palate but some are spicier than sweet and vice-versa.
Easy sativa was developed specifically for outdoor growers. It will grow just fine indoors as well but the ease of cultivation is still its signature trait. It responds well under a broad range of growing conditions and even stands up in colder climates.
Those planning to grow indoors should consider keeping Easy Sativa on a long light cycle - 16/8 will work best, especially during the flowering period.
For best results, however, growers should take advantage of peak daylight hours, allowing these plants to spend the majority of their growing cycle in longer days, near the summer solstice.
Final harvest can be as late as early November (in the Northern Hemisphere) but the plants should be completely harvested before frost sets in.
Maximum yield and quality are achieved by giving these plants a minimum of 8 weeks to grow and the longer the better. Most will reach their peak by about 10 weeks.
Please remember that the growing of cannabis plants and the cultivation of seeds is illegal in some countries - please check the laws of your country and don't be growing any plants if it is against your country's laws