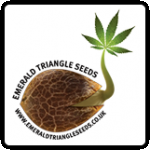 With breeding experience going back over two decades, the team at Emerald Triangle Seeds is known for their incredible attention to detail, their all-natural techniques and the resulting high reliability of their prized strains.
Whilst Emerald Seeds have produced a vast selection of strains over the years, including some top-notch feminised varieties, they are most well known for their regular strains: This is part of their commitment to establishing a long-lasting legacy of the most stable seeds around without neglecting the use of the male chromosome in their breeding techniques.
Browse our full range of Emerald Triangle Seeds today and add some of nature's finest to your collection!