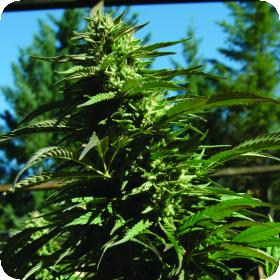 Blueberry Headband Regular Seeds
Blueberry Headband is an indica/sativa hybrid cannabis strain that grows quite tall with large yields of long buds formed due to the tight inter-nodal spacing of bud sites.
It is a 4-way cross-breeding plant consisting of the following elite genetics: '76 Blueberry X Emerald OG X Cali Sour D X Pre '98 Bubba.
It is suitable for indoor and outdoor growing; indoor flowering takes approximately 9 weeks and outdoors it is ready to be harvested in the northern latitudes at the beginning of October.
This variety is very resistant to mould and powdery mildew and is highly recommended. 
Genetics:
'76 Blueberry X Emerald OG X Cali Sour D X Pre '98 Bubba