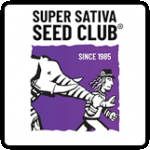 The Super Sativa Seed Club appeared for the first time on the Dutch cannabis scene in 1985. It literally grew out of the Amsterdam squat movement, of which Karel Schelfhout was an active member, and where he first began experimenting with marijuana growing techniques.
Using seeds donated by Sam the Skunkman (Skunk # 1) and Neville Schoenmakers (Haze) Karel began his own breeding programme.
In 1985, he launched the Super Sativa Seed Club (SSSC) with partners and, following a brilliant article in the High Times magazine, sold millions of seeds around the world before events conspired to end the business in 1987.
This, however, was not the end of Karel's breeding adventure as he continued to breed new strains for Dutch coffee shops.
Now working with his son Kees in Spain, Karel has re-launched the Super Sativa Seed Club to offer classic strains such as Old School Haze, the daughter of the original Haze and Skunk # 1, which he never stopped growing for himself.
With the regular seed strains offered for sale, the re-emergence of the SSSC is an exciting step back into the future for sativa and sativa-dominant hybrid lovers everywhere.