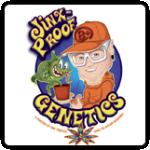 Jinxproof Genetics Our genetic strains were developed by Jinxproof, the world-renowned founder and breeder of the 9 lb Hammer, a strong indica dominant strain that has amazed many breeders with its strength, rosin quality, fruity flavour notes and yield.
Jinxproof, together with a convergence of creative growers, produces exotic hybrid plants that even marijuana connoisseurs like the pickiest.
Through Jinxproof's agricultural knowledge of 30 plus years, these genetics are created to breed and stabilise desirable strains that satisfy a variety of cannabis palates.
Jinxproof Genetics is a family-run company that also gives back tolocal cannabis community.