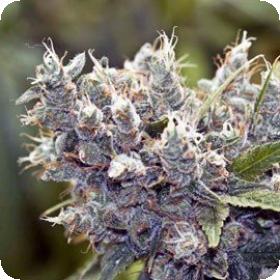 Bubblegummer Feminised Seeds
Bubblegummer is Female Seeds' take on a classic that has made the rounds from the Midwest United States, to New England and across the Atlantic into Holland where it has been tweaked, hybridized and tinkered with for years.
This feminised version has a lot to offer and is unique among other varieties of a number of ways. For starters, the name is no accident.
The buds and hairs have a distinct pink hue that evokes images of classic bubble gum, complete with the powdery sugar coating that the resin gives it. Even better, it actually smells like classic pink bubble gum piquing even more interest for the grower and the cannabis enthusiast.
It took a number of generations to produce this fun-loving strain and while the seeds are very reliable, there are a number of phenotypes that can present with this strain.
The mature plants do take well to cloning so if the grower finds a pheno for which he or she develops an affection, it is easy to keep it on hand. Some phenotypes have more of that bubblegum look and smell than others but there is no measurable difference in quality for the end product.
The seeds grow very vigorously and the plants complete their flower cycles after just about 8 weeks on average. The flavour is intensely sweet, as the name also suggests.
The plants grow to a medium height, making them suitable for growing both indoors and out. Indoors, they take well to any method the grower might wish to employ.
Outdoors, they grow a bit taller but without noticeable differences in overall yield. Give these plants a long growing season, and they will continue to reward with increasingly intense product.
Final harvest should be completed before frost sets in when growing in an area that sees drastic changes of season.
Please remember that the growing of cannabis plants and the cultivation of seeds is illegal in some countries - please check the laws of your country and don't be growing any plants if it is against your country's laws.