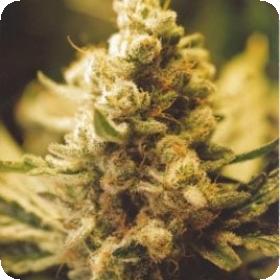 Lemon Kush Feminised Seeds
Lemon Kush is a traditional indica that has been bred to amplify its many appealing qualities, specifically its lemony citrus aroma and equally strong and satisfying flavour.
The result is nicely structured indica-dominant plant that delights users with a high that is much more like a sativa than a classic indica. The effect is very heady but also light and dreamy. It doesn't immobilize the user with a couch-locking stone.
This strain gets the job done while leaving the user more functional and alert.
This strain is best suited for indoor growing and it lends itself well to being grown under a number of conditions. The plants remain short, rarely growing taller than 3 feet. The buds are small and tight and produce an abundance of sticky resin.
The plants' squat and compact stature make them the perfect candidates for growers who use methods like Sea of Green and Screen of Green.
This is a high-yielding strain making it very attractive to commercial growers and hobbyists who like to cure and store the buds for use over time.
The plants will require some cropping for maximum yield but there are few other considerations with these plants. They are easy to grow and maintain.
Flowering time for Lemon Kush is short - only about 9 weeks on average. The longer it is allowed to grow, the more it will produce and the better the quality of the end product will be.
Growers who have some experience working with a variety of cannabis strains should be able to intuit how to best approach these plants and novice growers will find them to be a good strain for earning their green thumbs.
Regardless of the grower's experience level, these seeds reward well with plants that are vigorous producers of high quality bud.
Please remember that the growing of cannabis plants and the cultivation of seeds is illegal in some countries - please check the laws of your country and don't be growing any plants if it is against your country's laws