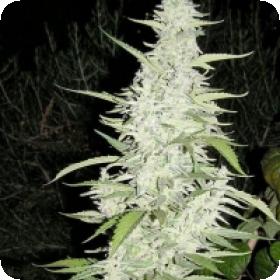 Maroc traces its origins back to the Ketama region of Morocco. Since then it has been selectively bred to arrive at this resinous version adapted to outdoor cultivation at higher latitudes.
It's an indica/sativa strain.
Maroc is a great outdoor plant. It should be sown outside by mid-April to mid-May.
It is not recommended that the plants begin early indoors to give them a head start as they begin to flower in May as they are semi-autos.
They really benefit from longer summer days for their vegetative growth period.
In low latitudes, they will be ready for harvesting in the second half of August, but the further north or south they will be cultivated the longer the growing season they will require and the harvest will be much later, e.g. in mid-October at 52°N.
They reach a height of 100-150 cm with good vegetative growth. They're tall and big-yielding plants.
The buds grow long and quite thin and have a fairly open structure so that a little dampness does not ruin them, as this encourages air flow through the buds.
The aroma is incredibly rich and aromatic with a sweet, earthy, floral taste-a clear reminder of pure Ketama gold!
The effect is very nice, a nice body-stone that has a wider impact than typical good-quality Moroccan hash due to the wider range of cannabinoids present.