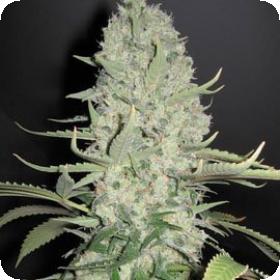 White Widow x Big Bud Feminised Seeds
Female Seeds White Widow x Big Bud is a combination of the best genetics of two truly iconic strains of cannabis. These feminised seeds are the result of numerous breeding projects designed to create a consistently stable strain that is potent and flowers quickly.
These seeds are very easy to handle and have been engineered for both indoor and outdoor cultivation. They are so reliable they have a nearly 100% germination rate.
They respond well to all popular indoor growing methods. Potting, soil, hydroponics, SOG, ScrOG and Deep Water Culture all produce very impressive results.
The plants grow to a medium size - about 60-80 cm on average - and possess typically indica characteristics. The productivity can be increased by placing the plants on a 12/12 lighting cycle after two weeks into its vegetative phase.
This also keeps the plants squat and accommodating of small growing spaces without sacrificing yield. White Widow X Big Bud makes an ideal strain for novice growers.
The plants are easy to grow and offer new growers the opportunity to make a few mistakes while earning their green thumbs.
They vegetate for an average of 5 weeks and flowering time is about 7 weeks. They provide a superior yield and are capable of producing yields upwards of 550 g.
The buds grow huge and practically drip with potent and delicious resin. These plants finish mid-September to early October when cultivated outdoors.
This strain develops a strong, pungent aroma during its flowering stage making good air flow and filtration necessary when growing indoors.
The end product boasts a very generous THC content and produces relaxing yet functional high that is purely mellow - no anxiety or paranoia. Medical users appreciate this characteristic especially and find White Widow X Big Bud to be effective therapy for all kinds of ailments.
Please remember that the growing of cannabis plants and the cultivation of seeds is illegal in some countries - please check the laws of your country and don't be growing any plants if it is against your country's laws.