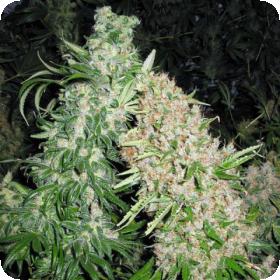 Skunk Special Feminised Seeds
Skunk Special had been retired for a few years, but has since been brought back to the Female Seeds line-up purely on the basis of customer demand!
Its lineage can be traced back to the original Skunk plants that Sam the Skunkman had developed for Dutch greenhouse cultivation in the 1980s.
Skunk Special is a very versatile plant; it performs exceptionally well indoors under artificial light, in greenhouses and outdoors.
This strain is mainly composed of Mexican and Colombian sativas with a bit of Afghan mixed in and has the familiar smell of old-school Skunk cat-piss.
Plants are about 60-80 cm tall and have a short flowering time of 8 weeks.
Growers can expect large harvests of very high quality buds.
The high is strong in both the head and the body and persists for a long time.
It provides a well-balanced indicator/sativa hit.
Genetics:
Mexican x Colombian Sativa