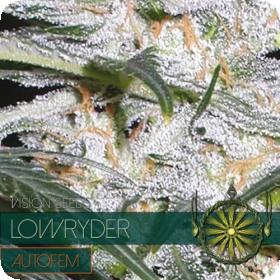 Lowryder AUTO Feminised Seeds
Lowryder was created specifically to be fast flowering. This strain is not only very fast but it's very short, hence the name. This strain is extremely versatile and, through generations of selective breeding this strain is non-deviant and hermaphrodite free.
Lowryder is descended from William's Wonder and Northern Lights no.2. This strain basically goes right from seedling to the flowering stage. It is super fast, super compact and really discreet. Its effect is powerful and the resin production is extremely high.
This strain is auto-flowering and feminised. Auto-flowering plants will flower automatically rather than as the result of a light cycle. This not only makes them easier to grow but gives them a shorter flowering time as well as a shorter stature.
Even though these plants are small they will still produce amazing yields. This makes auto-flowering plants perfect for small growing spaces and for commercial growing. Feminised seeds will only grow into female plants, which makes them super for growers.
Most growers don't tend to use the male plants, which makes them a massive waste of time and money. Feminised seeds also tend to be higher in quality and uniformity than regular seeds.
This strain has a flowering time of 8 weeks and can be grown indoors, outdoors or in a greenhouse.
Remember that the cultivation of cannabis seeds is illegal in some countries; please check the laws of your country before attempting to cultivate cannabis seeds.