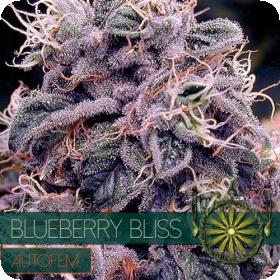 Blueberry Bliss AUTO Feminised Seeds
Blueberry Bliss is an amazing and intense auto-flowering strain that comes from the famous Blueberry plant. This strain is beautiful to look at with its lovely blue leaves and its thick covering of resin.
The effect is extremely euphoric and happy, perfect for unwinding and forgetting about the stresses of the day. These seeds will grow well in any environment, including outdoors as long as they get enough sunlight.
This strain is both auto-flowering and feminised. Auto-flowering plants will flower at a certain point in their lives rather than as the result of a light cycle.
This shortens the flowering time of the plants as well as the stature. Even though these plants are short they will produce amazing yields. This makes them ideal for smaller growing spaces or for commercial growing.
Feminised seeds will only grow into female plants, making them great for growers who don't plan on breeding their own crops. For these growers the male plants are a nuisance and can damage the females during the flowering period.
This means they have to be removed, which is a huge waste of time and money. Feminised seeds also tend to be higher in quality and uniformity than regular seeds.
This strain has a flowering time of 8 weeks and can be grown indoors, outdoors or in a greenhouse.
Remember that the cultivation of cannabis seeds is illegal in some countries, please check the laws of your country before attempting to cultivate cannabis seeds.
Genetics:
BlueBerry x WW x Super Skunk x Ruderalis