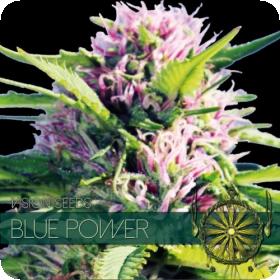 Blue Power Feminised Seeds
Blue Power is one of the most beautiful strains on the market, and has one of the nicest effects. This strain produces amazing yields of dense, blue flowers that cure to a soft lavender.
This strain comes from Blueberry heritage and represents strains from all over the world. This strain has average levels of THC and, when this is combined with the high levels of CBD, it makes for a great medicinal plant.
This strain is especially helpful for those suffering from ADHD, it is great for dealing with impulsivity, hyperactivity and inattention. This strain is a real experience and is definitely worth growing.
This strain is feminised and will only grow into female plants. Feminised seeds are great for growers who don't plan on breeding their own crops. These growers have no need for the male plants and need to removed them before they harm the females.
Since half of a regular crop is male, this can be a huge waste of time and money. Feminised seeds also tend to be higher in quality and uniformity than regular seeds. For this reason some breeders also prefer to use them, even though feminised breeding is difficult.
These seeds are also photoperiod and will require a light cycle to flower.
This strain has a flowering time of 9 weeks and can be grown indoors or outdoors.
Remember that the cultivation of cannabis seeds is illegal in some countries, please check the laws of your country before attempting to cultivate cannabis seeds.