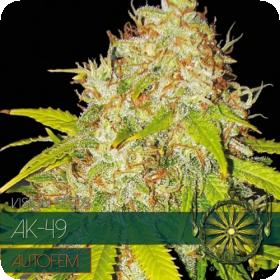 AK - 49 Auto Feminised Seeds
AK – 49 Auto is one of the most powerful auto-flowering strains on the market. It is a cross between AK – 49 and Lowryder, resulting in a strong and stable auto strain with all the amazing characteristics of AK – 49.
This strain is extremely resinous and produces dense buds that are super fluffy. The scent and flavour are pleasantly spicy with a hint of skunk. The effect is euphoric but extremely stimulating.
This strain is also extremely easy to grow, and can be grown pretty much anywhere. The yields are impressive and can be larger than most other auto-flowering strains, if the plants are properly taken care of This strain is feminised and auto-flowering.
Feminised seeds were created to make life easier for growers. Most growers have no need for male plants, which take up around half of a regular crop.
This means they have to be removed before they can harm the female plants. Therefore the males are a huge waste of time, money and energy. Feminised seeds also tend to be higher in quality and uniformity than regular seeds.
Auto-flowering plants will flower at a certain point in their life, rather than as the result of a light cycle. This shortens the flowering time and the size of the plant. Even though the plants are smaller they will still produce amazing yields.
This strain has a flowering time of 8 weeks and can be grown indoors, outdoors or in a greenhouse.
Remember that the cultivation of cannabis seeds is illegal in some countries, please check the laws of your country before attempting to cultivate cannabis seeds.