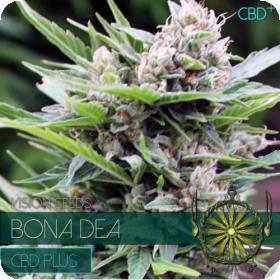 Bona Dea CDB+ Feminised Seeds
Bona Dea or The Good Goddess was an ancient Roman deity associated with fertility, chastity, healing and protection. This is a great name for this high CBD strain that is a stunning combination of indica genetics from all over the world.
This strain is extremely resinous and produces large yields and deliciously spicy buds. The effect is very slightly psycho-active and reasonably physical, but not unpleasantly heavy.
This strain was developed specifically for medicinal use and has an great balance of CBD and THC.
This strain is feminised and will only grow into female plants. Feminised seeds are great for growers who don't plan on breeding their own crops. For these growers the male plants are a total nuisance as well as a waste of resources.
They take up around half of a regular crop and have to be removed before they can harm the female plants. This is a massive waste of money that would be better spent on female plants.
Feminised seeds also tend to be higher in quality and uniformity than regular seeds. Some breeders also prefer to use them, even though feminised breeding is extremely difficult.
This strain has a flowering time of 8 weeks and can be grown indoors, outdoors or in a greenhouse.
Remember that the cultivation of cannabis seeds is illegal in some countries, please check the laws of your country before attempting to cultivate cannabis seeds.