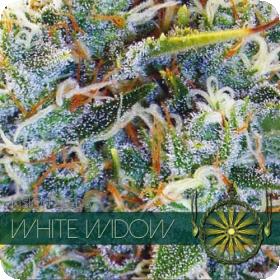 White Widow Feminised Seeds
White Widow is one of the world's most famous strains. She is well known for her extreme potency, amazing scent/flavour and her thick, white buds that look as though they have been sitting out in a snowstorm.
This strain has one of the most relaxing effects of any strain on the market. She is often used to relieve stress and anxiety or to help with sleep disorders. The effect also has a hint of mood enhancement, which makes it great for relaxing after a long and crappy day.
This version of White Widow is feminised and will only grow into female plants. Feminised seeds are primarily popular with growers who don't want to breed their own plants.
For these growers the male plants are useless and can actually damage the females during the flowering period. This means that they have to be removed and disposed of. Since around half of a regular crop is male, this is a huge waste of time and money.
Feminised seeds also tend to produce higher quality plants than regular seeds. For this reason some breeders also prefer to use them, even though feminised breeding is very difficult.
This strain has a flowering time of 9 weeks and can be grown indoors or outdoors.
Remember that the cultivation of cannabis seeds is illegal in some countries; please check the laws of your country before attempting to cultivate cannabis seeds.