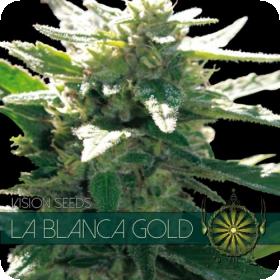 La Blanca Gold Feminised Seeds
La Blanca Gold is an amazing plant that produces huge amounts of resin, so much so that it sparkles like white gold. This strain grows fantastic flowers and heavy, crystal-covered buds and gives off an amazing skunk smell.
This strain can grow to around 2.5 – 3 meters indoors and is resistant to mould. Medicinally this strain can be used to treat the symptoms of ADHD including impulsivity, hyperactivity and inattention. The smoke is smooth with a delightfully sweet flavour.
This strain is feminised and will only grow into female plants. Feminised seeds were created to make life easier for growers. Most growers have no need for the male plants, which makes them a bit of a nuisance.
The males can harm the females during the flowering period and have to be removed. This is a huge waste of time, money and energy. Feminised plants also tend to be higher in quality and uniformity than regular strains.
For this reason some breeders also prefer to use feminised seeds. However, feminised breeding is extremely difficult and should only be attempted by experienced breeders.
This strain has a flowering time of 9 weeks and can be grown indoors or outdoors.
Remember that the cultivation of cannabis seeds is illegal in some countries; please check the laws of your country before attempting to cultivate cannabis seeds.