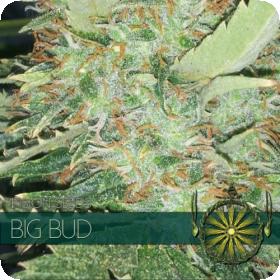 This strain is one of the worlds most popular strains. It is an indica, sativa mix with a durable happy high and a smooth smoke. This strain is also often used for medicinal purposes to treat lack of appetite, anxiety, stress and insomnia.
This was one of the first commercial strains, used for its impressive yields and will need some support to keep the branches from snapping.  This strain grows extremely well hydroponically or indoors but can also thrive outside in the right climate.
Big Bud is a feminised strain and will only grow into female plants. Feminised seeds are great for growers who don't plan on breeding their own crops.
For these growers the male plants are a huge nuisance and can damage the female plants during the flowering period. This means that the males have to be removed and can waste a huge amount of time and money.
Feminised plants also tend to be higher in quality and uniformity than regular plants. Some breeders also use feminised seeds, even though feminised breeding is very difficult.
This strain has a flowering time of 8 – 10 weeks and can be grown indoors or outdoors.
Remember that the cultivation of cannabis seeds is illegal in some countries, please check the laws of your country before attempting to cultivate cannabis seeds.
Genetics:
Northern Lights #1 x Skunk #1