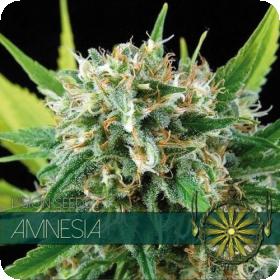 This strain is ideal for those who need something a little stronger. The effect is strong but mellow with a clear and uplifting cerebral effect. This makes it ideal for those suffering from anxiety, depression, migraines and nausea.
It is also a fantastic social strain, perfect for getting creative or just chatting. The scent itself isn't too strong, but when it is grown inside the smell can be powerfully floral and hazey.
The buds are lime green with lots of fluff and completely covered in resin crystals.
Amnesia is a feminised strain and will only grow into female plants. Feminised seeds are ideal for growers who don't plan on breeding their own crops.
For these growers the male plants are a problem and can actually harm the female plants, which means they have to be removed. Since around half of a regular crop is male they can waste a huge amount of time and money.
Feminised plants also tend to be higher in quality and uniformity than regular plants. Some breeders also prefer feminised seeds, even though feminised breeding is extremely difficult.
This strain has a flowering time of 9 weeks and can be grown indoors or outdoors.
Remember that the cultivation of cannabis seeds is illegal in some countries, please check the laws of your country before attempting to cultivate cannabis seeds.