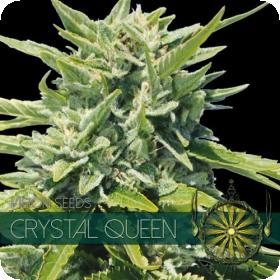 Crystal Queen Feminised Seeds
Crystal Queen is an extremely high class, high quality strain. This strain is a cross between White Widow, Super Skunk and ICE, resulting in an extremely resinous and beautiful plant.
Crystal Queen has a lot of side branches and produces impressive flower clusters. If this strain is manicured properly she will produce extremely generous buds.
The way that this strain looks and smells makes her seem as though she came from an expensive jewellery shop. This strain will thrive as long as she is treated like royalty.
This strain is feminised and will only grow into female plants. Feminised seeds are great for growers who don't plan on breeding their own crops.
For these growers the male plants are useless and can actually cause a lot of issues for the females during the flowering period. By using feminised seeds growers can save a huge amount of time and money that would otherwise be wasted on the male plants.
Feminised seeds also tend to be higher in quality and uniformity than regular plants. For this reason some breeders also prefer to use them, even though feminised breeding is extremely tricky.
This strain has a flowering time of 9 weeks and can be grown indoors, outdoors or in a greenhouse.
Remember that the cultivation of cannabis seeds is illegal in some countries, please check the laws of your country before attempting to cultivate cannabis seeds.