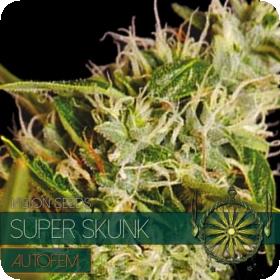 Super Skunk AUTO Feminised Seeds
Super Skunk is a stunning and extremely dense plant that produces amazing yields at a medium height. This strain is easy to grow without being an expert on nutrition, but it will need space for its roots to develop freely.
This strain is indica dominant and extremely reliable. She still has a hint of sativa that comes through in the amazingly clear and uplifting effect. This strain is perfect for medicinal use and can relieve chronic pain, stress and can increase the appetite.
The buds are dense and coated with resin, they also have all of that amazing skunk scent and flavour.
This strain is both auto-flowering and feminised. Auto-flowering strains will flower at a certain point in their life cycle, rather than in response to light. This means that they have a shorter flowering time and a shorter stature.
Despite their size these plants will still produce fantastic yields. This makes them great for indoor and commercial growing. Feminised seeds will only grow into female plants.
This makes them perfect for growers who don't plan on breeding their own crops. For these growers the male plants are a complete waste of resources that would be much better used on the productive females.
This strain has a flowering time of 7 weeks and can be grown indoors, outdoors or in a greenhouse.
Remember that the cultivation of cannabis seeds is illegal in some countries; please check the laws of your country before attempting to cultivate cannabis seeds.
Genetics:
Skunk #1 x Afghani Hash x Ruderalis