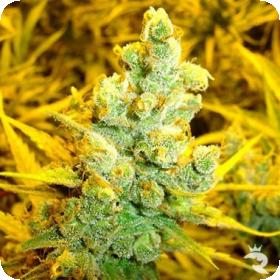 Medical Seeds 1024 is a 70% Sativa, 30% Indica hybrid. This strain has it all: great flavour, exceptional productivity, a distinct aroma, and an aesthetically pleasing presence. To many, it is considered to be the definition of what great cannabis should be.
1024 has a short vegetative period followed by a short flower period. Flower time for this strain is about 75-80 days indoors, slightly longer outdoors. The plants grow to a medium height, making them easy to grow in a variety of setups including soil, potting and hydro. They also work well in SOG , ScroG, Deep Water Culture, and other specialised methods.
Outdoors, the plants will grow taller and will produce more buds. Indoors, the yields hover around 600 g per square metre, while outdoor yields can top 1 kg per plant. Outdoor harvest time is mid October.
The THC content for this strain is exceptionally high, Describing the taste is difficult since it is so distinctive. There are a variety of notes in the flavour with a common thread of sweet, spicy, and fruity.
The effect is predominantly sativa with a clear-headed, alert high coupled with characteristics of indica including deep relaxation and a full-body stone. The energetic effects of the sativa take a back seat to the mellow, relaxed characteristics of the indica.
This is a great strain for growers who are either new to cannabis cultivation or who just like working with strains that don't ask that much of the grower in terms of maintenance and fuss. They grow well with just standard nutrients and care although some indoor methods can produce those high THC counts more predictably than others. SOG and ScrOG are said to be the best in that regard.