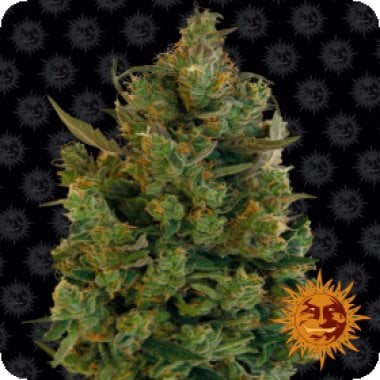 Blueberry Cheese (Blue Cheese) AUTO Feminised Seeds
Blue Cheese is an amalgamation of two of the most famous cannabis strains in existence. One being Skunk #1 otherwise known as "Cheese" and Blueberry. The resulting strain is a high yielding Indica which maintains the amazing Cheese taste and scent.
This is an easy to grow strain perfect for beginner and and seasoned growers alike.
This strain is a powerful yet comforting one with very high THC levels and a CBD level of 1.5%. This strain comes highly recommended for anyone suffering from insomnia, anxiety, depression or stress.
This absolutely classic strain is available from Barney's Farm in many forms including the easiest by far to grow, autoflowering feminised.
Autoflowering feminised strains have been altered so that they are, you guessed it, both autoflowering and feminised. Autoflowering strains are specially bred so that they flower automatically.
Most strains go through a vegetative process and rely on a complex light pattern in order to flower properly. These plants flower completely of their own accord which makes them much easier to grow.
The fact that they skip an entire growth stage also means that they have a shorter flowering time than most plants.
They also tend to have a larger yield and can be easily grown indoors due to their ability to stay at a shorter height without losing any of their yield.
Feminised seeds were created in order to get rid of the nuisance that is male plants. For many growers, especially those who are not interested in breeding, male plants can cause problems in their crop as well as being a waste of time and of money.
If a grower purchases regular seeds around half of the crop will grow into male plants. These plants need to be removed at the start of the flowering process and so half of the crop is wasted.
Not only do feminised seeds save time and money but they are easier to grow with a more impressive pay off. Feminised plants are far more likely to be of a higher quality than regular plants.
This strain is very versatile and can be grown indoors, outdoors, or in a greenhouse. It will flower around 75 days from germination. This classic strain from Barney's farm is simply too good to miss.