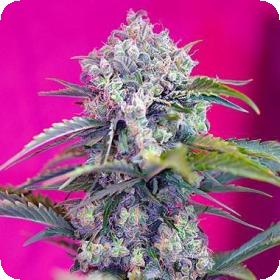 Cream Mandarine Auto Feminised Seeds
Sweet Seeds' Cream Mandarine is a 3rd generation autoflowering hybrid comprised of a mixture between Cream Caramel Auto and Ice cool.
The result is a potent plant, reported to retain an intensified citrusy mandarin aroma from the Ice cool, in pairing with the sweetness of the cream caramel, as the name would suggest.
The finished plant grows to around 110 cm in height and is said to develop some excellent large buds, with an abundance of resin, which towards the end of the flowering period take on red and purple tones.
Sweet Seeds has made the process even easier with this plant by making it a feminised seed. While a regular seed will normally produce a fairly even split of male to female plants, a feminised seed is almost guaranteed to produce an all female crop.
For a grower wishing to breed or create their own crop, the males are not so much a problem, and they produce the much-needed pollen.
For a grower cultivating for the buds alone, however, a feminised seed would clearly be the better option as the males are somewhat obsolete for this purpose.
The presence of the male plants would mean that a grower would require twice as much space within which to home these plants, as well as twice the time and money for the seeds themselves and the disposal of the unwanted males.
This problem is eliminated with a feminised seed. If a grower did wish to breed with the feminised seeds, the male plants are also not strictly essential to the breeding process.
It would be possible for an experienced grower to achieve fertilisation through attentive manipulation of the female plants in order to make them produce pollen.
This would not be a process to be undertaken by anything less than a seasoned grower, but when done well, the overall standard and consistency of the crop is often higher.
This combined with a shortened flowering period, due to the autoflowering aspect of the plant, make this an excellent seed to add to any collection.
Cream Mandarine has an expected flowering period of around 9 weeks, with an indoor yield of around 400-550 grams per square meter and an outdoor yield of approximately 45-170 grams per plant.
Please remember that the growing of cannabis plants and the cultivation of seeds is illegal in some countries - please check the laws of your country and don't be growing any plants if it is against your country's laws.
Genetics:
Cream Caramel Auto x Ice Cool