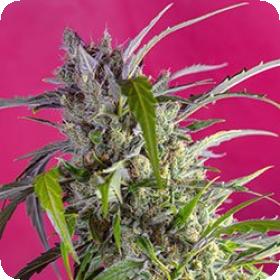 Crystal Candy Auto Feminised Seeds
This strain is a cross between Crystal Candy and an auto-flowering strain with a very similar scent and flavour profile to the original. The result is a sweet, sugary scented plant with a fast flowering time and amazing yields.
This strain is best known for its aroma of fruity, bubble gum, strawberry, melon, and basically every delicious sweet thing you can think of. It produces large, dense buds coated in resin, hence the Crystal aspect of the strain.
Crystal Candy is an auto-flowering and feminised strain. Auto-flowering strains will flower automatically, rather than as the result of a light cycle. This will shorten the flowering time of the plant as well as the height.
Despite the smaller stature of the plants the yield is still extremely impressive. This makes them perfect for commercial growers and for those who are just lacking in space. Feminised strains will only grow into female plants.
This makes them great for growers that don't plan on growing their own crops. Male plants take up half of a regular crop and are only useful if their pollen is being used for breeding, other wise they are just thrown away.
This strain has a flowering time of 8 weeks and can be grown indoors or outdoors.
Remember that the cultivation of cannabis seeds is illegal in some countries, please check the laws of your country before attempting to cultivate cannabis seeds.