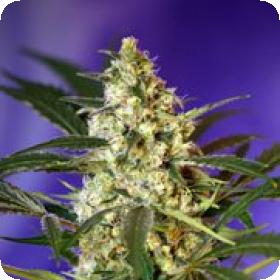 Fast Bud #2 Auto Feminised Seeds
There is a clear reason as to why this strain has been named Fast Bud, because of its auto-flowering nature it flowers significantly faster than most other strains. Fast Bud is also extremely accessible to all growers and breeders as it can be grown in almost any environment.
The fast growing nature of the plant means that it can even be grown outdoors, and so be allowed to reach its full potential, by growers and breeders who live in countries which experience extremely short summers.
This is possibly one of the most user-friendly strains on the market, and not only is it easy to grow but it is powerful, potent, and has a sweet and delicious aroma.
This strain is a result of a cross-breeding experiment between a ruderalis auto-flowering strain and Diesel, and already extremely popular strain.
Auto-flowering is a simple, yet effective, alteration to a seed which makes it far easier to grown and control. Essentially they are called auto-flowering plants because, instead of responding to a specific light-cycle, they flower at a certain point in their life automatically.
This has a lot of positive aspects such as the fact that growers no longer need to maintain separate vegetation and flowering areas. This can save a lot of time, money, and hassle for those who have limited growing space.
They can also be grown in slightly less forgiving climates as they have a shorter flowering time. The ability to control the height of the plant is also a must as growers can now keep a plant shorter without harming the yield.
This is ideal for indoor growing or those who are short on growing space.
These seeds are also feminised which means that they will only grow into female plants. This is ideal for growers who have no interest in breeding because they have no need for the male plants.
Now they can just grow the productive females instead of having to worry about removing the pesky male plants. They need also no longer purchase a ridiculous amount of seeds that will simply be wasted by growing into male plants.
Using feminised seeds means that all the seeds will be used and so saves a good bit of money.
This strain can be grown indoors, outdoors, or even in a greenhouse. Its indoor yield is 450 - 500 g/m2 and its outdoor yield is 20 - 70 g/plant. The most amazing part is that this plant will be flowering after 2 ½ weeks and can be harvested a mere 53 days after germination.
Please remember that the growing of cannabis plants and the cultivation of seeds is illegal in some countries - please check the laws of your country and don't be growing any plants if it is against your country's laws