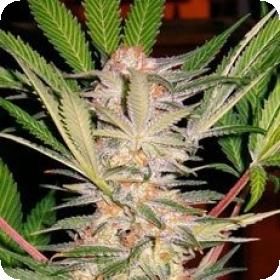 S.A.D. Auto Feminised Seeds
S.A.D Auto Feminised is an updated version of Sweet Seed's original S.A.D (Sweet Afghani Delicious). In order to achieve this auto-flowering strain the original S.A.D was combined with Ruderalis genetics.
S.A.D is most renowned for its sweet, musky scent and taste as well as its extremely potent effects. The original S.A.D strain was an inbred strain, the original strain that it was inbred from was Black Domina, an extremely popular strain.
The THC content of this strain is high and in the growing phase it will produce large, dense, resin coated, buds even though it is such a tiny, compact, plant.
Feminised strains will only grow into female plants which many growers find very useful. Male plants are not only an annoyance in any crop, for those who have no interest in breeding, but they can actually damage the female plants around them.
This means that they have to be removed by the grower at the start of flowering which is a waste of that growers time and energy.
They also mean that a grower only needs to purchase as many seeds as their desired number of female plants, rather than twice as many as they would with regular seeds.
Auto-flowering strains are had a lot of very positive attributes that hugely trump their regular counterparts. For a start they flower at a certain point in their life rather than responding to a specific light-cycle, this means that they are better for novice growers.
This also means that they do not need a separate vegetative and flowering space which is better for those who do not have a huge amount of space and resources available to them.
This automatic flowering means that they grow a lot faster than regular strains which is ideal for those who experience very short summers and wish to grow outdoors.
Finally, they can be kept to a much shorter height without the yield being affected which makes them perfect for small gardens or indoor growing.
This strain performs excellently indoors, outdoors, or in a greenhouse making it accessible to all types of growers. This plant is very small reaching to only around 40 - 90 cm but the yield is still, indoors, around 400 - 500g/m2, the flowering time is a surprisingly short 8 weeks.
Please remember that the growing of cannabis plants and the cultivation of seeds is illegal in some countries - please check the laws of your country and don't be growing any plants if it is against your country's laws