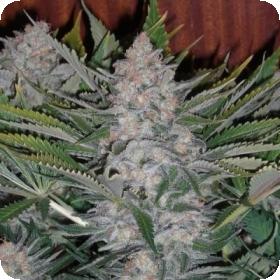 Green Poison Auto Feminised Seeds
Green Poison Auto Feminised seeds by Sweet Seeds are a hybrid of the strongest and finest Indica and Sativa strains available to the Sweet Seeds breeders.
The Indica gene is certainly dominant in this strain and this is made clear by the quick flowering and impressively large yields.
The Indica dominant nature of the strain also means that it can be grown indoors or outdoors making it more accessible to a wider range of growers and breeders.
These plants are also rather pleasant to look at as, in the early stages of maturity, the dark green leaves take on a purple tinge as well as the large, crystal-covered, buds. These buds have a high percentage of THC as well as being extremely resinous.
The aroma is a fruity-sweet scent which can be noticed around the beginning of the flowering period and is still completely maintained in the final harvest. Green Poison is also highly resistant to fungus and grey mould which means that they can happily grow in moist conditions.
These seeds are both auto-flowering and feminised making them extremely user-friendly. Auto-flowering simply means that these plants will flower automatically at a certain point in their life, rather than responding to a specific light-cycle.
This has a lot of highly positive attributes such as a much shorter growing time. Another excellent quality of auto-flowering plants is that growers do not need to maintain separate vegetation and flowering areas, perfect for those who do not have a lot of growing space available to them.
Auto-flowering strains can also be kept at a shorter, more condensed, stature without sacrificing the yield. This means that they are perfect for indoor growing and smaller gardens.
Feminising seeds is a practice that has been around, and immensely popular, for some time now. Feminising seeds means that they will only grow into female plants, eliminating the often useless males.
For growers, who have no wish to breed, male plants take up space, time and money which could otherwise be used on productive female plants.
They also save time and effort since there is no need for growers to remove the male plants at the start of flowering. Feminised seeds have often been reported to have higher levels of quality and uniformity than regular seeds.
These plants flower in just 7 weeks and can be harvested in the mid to late September. The indoor yield is around 500 - 650 g/m2 and the outdoor yield is around 500 - 700g/plant.
Please remember that the growing of cannabis plants and the cultivation of seeds is illegal in some countries - please check the laws of your country and don't be growing any plants if it is against your country's laws