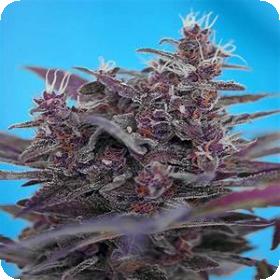 Black Cream Auto Feminised Seeds
This strain is made up entirely of Autoflowering genetics, as a hybrid of Sweet Seeds most heralded strain, the original Cream Caramel, and an exotic, purple flowered autoflowering strain which comes from pakistani Kush ancestry.
This strain is said to grow to around 60-110 cm in height and to have somewhat of an indica look about it, producing many small branches from the central stem, with dense buds and a large main cola.
The finished plant also boasts some excellent resin production, with a very sweet and fruity scent, alongside hints of some slightly deeper, earthy hues like that of its Cream Caramel parentage.
It is typical for around 80% of the plants to develop purple or somewhat red tones through the bud, and sometimes the leaves as well, as they mature. It is after being harvested that the buds are said to take on the dark purple, almost black, tone that the name suggests.
In order to make the growing process even easier, Sweet Seeds has made this a feminised seed. While a regular seed will typically produce a roughly even split of male to female plants, a feminised seed is almost guaranteed to produce an all female crop.
For a grower with any other wish than to breed, a feminised seed would clearly be the better choice as the male plants serve no purpose other than to produce pollen.
This means that a grower would only require half of the space usually needed to produce the desired number of females, as well as spending less money overall and eliminating the need to dispose of unwanted males.
If a grower did wish to breed with the feminised seeds, the male plants are also not strictly essential to the breeding process. It is possible for a seasoned grower to achieve fertilisation through attentive control of the female plants in order to force them to produce pollen.
It is not recommended that anyone less than an experienced grower would attempt this, but when done well, the resulting crop's overall quality and consistency is often of a superior level.
This combined with a shortened flowering period, due to the strain's autoflowering properties would make this a simple grow.
The expected flowering period for this seed is around 8 weeks, with an expected yield of approximately 350-550 grams per square meter indoors, and about 35-150 grams per plant outdoors.
Please remember that the growing of cannabis plants and the cultivation of seeds is illegal in some countries - please check the laws of your country and don't be growing any plants if it is against your country's laws.