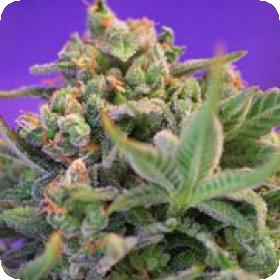 Sweet Cheese Auto Feminised Seeds
Sweet Seeds -  Sweet Cheese Auto Feminised Seeds
Sweet Cheese Auto is a cross between Bud Auto and an elite Sweet Cheese clone. This strain has all the amazing classic Cheese aroma but with a much shorter flowering time and an improved yield.
This strain will grow one large central bud that is extremely dense and covered in resin. This strain also has an extremely strong scent so, if it is being grown inside, it may need a carbon filter. This strain has an amazing scent of mature cheese, spice and citrus with a rick, thick smokey flavour.
Sweet Cheese is high in THC, which makes the effect intense and cerebral with a lovely, soft bodily stone that leaves users feeling nice and relaxed.
This strain is both auto-flowering and feminised, making it ideal for all sorts of growers. Auto-flowering strains will flower automatically, rather than as the result of a light cycle.
This means it will have a shorter flowering time as well as a shorter stature. The small size of the plant does not affect the yield at all, meaning the plants take up less space and produce the same amount of buds.
This makes them ideal for commercial growers and those who are lacking in grow space. Feminised seeds will only grow into female plants, which can save growers a huge amount of time, money and energy that would usually be wasted on the male plants.
Feminised plants also tend to be higher in quality and uniformity than regular crops.
This strain can be grown indoors or outdoors and has a flowering time of just 8 weeks.
Remember that the cultivation of cannabis seeds is illegal in some countries, please check the laws of your country before attempting to cultivate cannabis seeds.