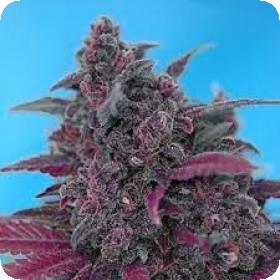 Dark Devil Auto Feminised Seeds
This strain is comprised of a 100% Autoflowering crossing of one of Sweet Seeds best received autoflowering genetics, Big Devil XL, and an exotic autoflowering strain that produces purple flowers.
The purple phenotype is taken from its roots close to Afghanistan, in the Chiral region in the Pakistani Hindu Kush. As is typical of many of Sweet Seeds' strains, Dark Devil has a great amount of vigor from the get-go.
As with the majority of Indica-Sativa hybrids, this strain presents with a robust central stem and an abundance of side branches, with a big main cola and numerous smaller buds on the side branches.
The flowers and their surrounding leaves show an outstanding level of resin production, with a sweet, fruity fragrance and some more spicy undertones, with lemony hues to it.
About 80% of the plants' buds will usually some purple or reddish tones to them, with some of this also transferring to the leaves. It is said the after harvest the dried buds become a very dark purple, almost black, colour, hence the name given to the strain.
This strain is a feminised seed, in order to make the growing process that much easier. With regular seeds, the resulting crop would be half male and half female usually, which would only be useful for breeding purposes.
If this is not the aim, the male plants are somewhat useless. The grower would have to use twice the space in order to produce the desired number of female plants and would also need to purchase twice as many seeds.
This is what a feminised seed aims to eliminate. If a grower wished to breed with the feminised seeds, it is also possible to do so, although it would not be recommended for anything other than an experienced grower.
The grower could actually, through careful manipulation, induce the production of pollen from the female plants, removing the need for males altogether. The resulting crop would then be of a higher quality and consistency.
This along with the fast autoflowering properties of the seed would make this a far easier grow than the regular alternative.
This seed has an expected flowering period of around 8 ½ weeks and will grow to a height between 80-130 cm. The expected yield for outdoor growth is around 50-200 grams per plant. For indoor growth this is approximately 400-600 grams per square meter.
Please remember that the growing of cannabis plants and the cultivation of seeds is illegal in some countries - please check the laws of your country and don't be growing any plants if it is against your country's laws.
Genetics:
Big Devil XL x Purple Kush Auto