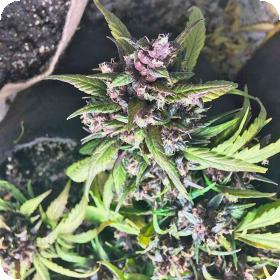 Red Poison Auto Feminised Seeds
This strain is another of Sweet Seeds' 100% Autoflowering seeds. It is made up of a combination of one of sweet seeds' best loved strains, Green Poison, and an exotic, purple flowered, autoflowering strain, a descendant of pakistani Kush ancestors.
Red Poison is said to have a distinctly indica-sativa hybrid appearance to it, as well as presenting with impressive hybrid vigour from the beginning of the germination process.
This plant has been described as developing a sturdy main stem with extensive, flexible side branches, with the finished plant producing compact buds, with a substantial amount of resin and a taste and smell that is somewhat saccharine and fruity with a hint of Skunk.
Around 80% of the plants acquire purple or reddish tones in the buds during flowering, some even developing purple leaves as well, with the dried buds taking on a very dark purple tone, almost black.
In making this strain an automatic feminised seed, Sweet Seeds has simplified the growing process even more. Regular seeds will usually produce a 50/50 split of male to female plants, when in fact the males are somewhat useless as it is the females that are needed to grow a crop.
This means that a grower is required to spend twice the money and time, as well as needing twice the space to ensure the correct amount of females is produced.
This is not the case with feminised seeds, however, as they ensure a 99.99% chance that all seeds will be female, ideal for the more inexperienced grower, as it eliminates the annoyance of dealing with the male plants.
Some assume that if a seed is feminised, it cannot be used to breed, however, if an experienced grower wanted to breed, they could do so through careful manipulation of the females in order to make them produce pollen, meaning the males are not needed.
It is a difficult process to master, but when done correctly, the resulting offspring will be of a better quality and uniformity.
The dramatic reduction to the flowering period, due to the autoflowering process, combined with the feminised aspect makes this a very low maintenance strain.
These plants can grow to a height of 60-120 cm tall, over a flowering period of approximately 8 weeks. The expected yield of this strain is around 400-550 grams per square meter in indoor conditions. In outdoor conditions 35-175 grams per plant could be expected.
Please remember that the growing of cannabis plants and the cultivation of seeds is illegal in some countries - please check the laws of your country and don't be growing any plants if it is against your country's laws.
Genetics:
Green Poison x Purple Kush Auto