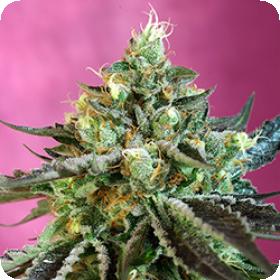 Sweet Nurse CBD Auto Feminised Seeds
Auto Sweet Nurse CBD is Sweet Seeds' first auto-flowering strain with a high CBD content. It was made using 4th generation auto strains and a clone with a long CBD photoperiod.
THC:CBD ratios of 1:1 to 1:2 are produced by Sweet Nurse Auto CBD medicinal marijuana. Psycho-activity is quite mild, making it ideal for patients looking for symptom alleviation without a strong high. 
It is a physically soothing plant due to its high CBD content.
It takes 8 weeks from seedling to harvest, growing to a height of 60 - 120 cm depending on conditions and the amount of area the roots have.
Indoor yields range from 400 to 600 grammes per square metre, whereas outdoor yields range from 50 to 125 grammes per plant. 
Plants have a robust core bud, as well as minor side-branching and many bud-sites. 
It has a strong perfume of sweet, ripe fruit with hints of Skunk, citrus, and spice.
It's used to treat anxiety, convulsions, nausea, inflammation, pain alleviation and among other things.
Genetics:
4G Auto strain x photoperiod clone rich in CBD