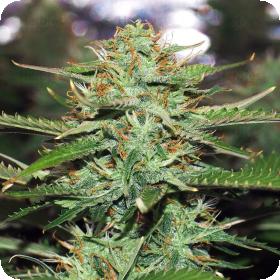 Jack 47 Auto Feminised Seeds
Sweet Seeds' Jack 47 is an extremely robust strain made up of a cross of the heavily renowned Jack Herer Auto and the equally well known AK-47. The result plant is a sturdy strain, with exceptional height, especially taking into account its autoflowering properties, of up to around 120 cm.
It still remains a good size for any space indoors or outdoors. The finished plant is said to be a remarkably potent variety, producing an abundance of extremely compact buds and a very impressive resin production.
The tastes and smells are reportedly a kind of sweet freshness accompanied by an underlying hint of incense.
In order to make the growing process altogether easier, Sweet Seeds has made this strain a feminised seed.
Meaning that instead of the usual 50/50 split of male to female plants produced by regular seeds, useful only for breeding really, these seeds have an almost 100% chance of resulting in an all female crop, since the female plants are the only ones to produce buds.
With a regular seed, the grower would be required to use, not only twice as much space in order to gain the correct amount of female plants, but the overall cost and time spent on the seeds would be doubled as well.
The purpose of a feminised seed is to eliminate all of this extra work and expenditure. As well as this, it is also possible, should a grower wish to breed, to do so without the use of a male plant.
Using careful control over the female plants, an experienced grower can actually induce production of pollen in female plants. While this is not recommended for anyone other than a seasoned grower, when done well the resulting crop is typically higher in both quality and uniformity.
With the shortened flowering period of the autoflowering variety, this strain truly is an exceptional strain.
The expected flowering time of this strain is approximately 9 weeks, with an indoor yield of around 450-600 grams per square meter. Outdoors, a yield of 50-200 grams per plant could be expected.
Please remember that the growing of cannabis plants and the cultivation of seeds is illegal in some countries - please check the laws of your country and don't be growing any plants if it is against your country's laws.