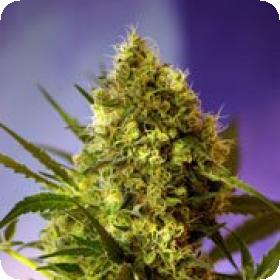 Big Devil #2 Auto Feminised Seeds
This strain is a cross between Sweet Seeds' Big Devil #2 and the ever popular Jack Herer strain. This cross was utilised in order to improve Big Devil #2 by giving it a few of the Jack Herer attributes that make it so very sought-after in the cannabis community.
The Jack Herer strain is named after famous cannabis activist and author of The Emperor Wears No Clothes, this strain is multi award-winning and has received a lot of praise for its medicinal effects.
It is often used to lessen the symptoms of anxiety, migraines, ADD, arthritis and PTSD. The strain was combined with the already popular Big Devil #2 in order to increase its height, improve its quality, the thickness of the buds and the resin production.
The aroma is one that is very reminiscent of incense with just a hint of lemon.
Feminising a strain simply means that the seeds will only grow into female plants. This removed the age-old issue facing so many growers everywhere, removing the male plants from the crop.
When using regular seeds the crop will be roughly half male and half female, this means that growers who have no need for the male plants will spend twice as much on regular seeds than if they went feminised.
The only real use of the males is to produce the pollen for breeding. Not only are feminised seeds user-friendly, but they can heighten the uniformity and quality of a crop.
Auto-flowering seeds are also considerably more user-friendly than regular seeds. The reason that they are called auto-flowering is because, instead of flowering as a result of a light-cycle, they flower automatically at a certain point in their life.
This has many advantages such as not having to prepare separate areas for vegetation and for flowering, and they flower much faster than other strains meaning that they are far better for those who experience short summers.
They can also be kept to a shorter height, for those who do not have a huge amount of growing space.
Big Devil #2 can be grown indoors or outdoors, making it a very accessible and versatile strain. Its indoor yield is roughly 425 - 650 g/m2 and the outdoor yield is around 50 - 350 g/plant, it also has a flowering time of just 9-10 weeks.
Please remember that the growing of cannabis plants and the cultivation of seeds is illegal in some countries - please check the laws of your country and don't be growing any plants if it is against your country's laws