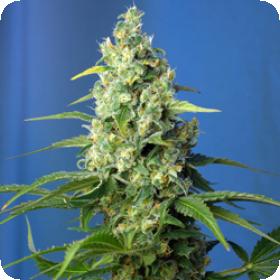 Honey Peach CBD Auto Feminised Seeds
Sweet Seeds' Honey Peach CBD Auto is a 5th generation autoflowering cannabis strain. It's a multi-variant cross of their best autos, as well as a CBD-rich photoperiod strain, from their already extensive collection. 
It has a THC:CBD ratio of between 1:1 and 1:1.5 and a genetic make-up that is 70% Indica.
This auto strain has an incredibly quick life cycle, taking only 8 weeks from seed to harvest. 
The plant's structure is highly Indica, with a strong central stem and several side-branches, all of which bear compact, sticky buds. 
It grows to a height of 60 to 100 cm, with indoor yields of 400 to 550 grammes per square metre and outdoor yields of 40 to 120 grammes per plant.
It has a unique organoleptic profile that is exceptionally sweet and fruity, with aromas of peach, lemon, and oak. 
THC levels range from 6 to 9%, while CBD levels range from 7 to 12%. Because of the amount of terpenes and resin, this strain is suitable for extract manufacturing.
Genetics:
Various Autos x CBD-rich Photoperiod Strain